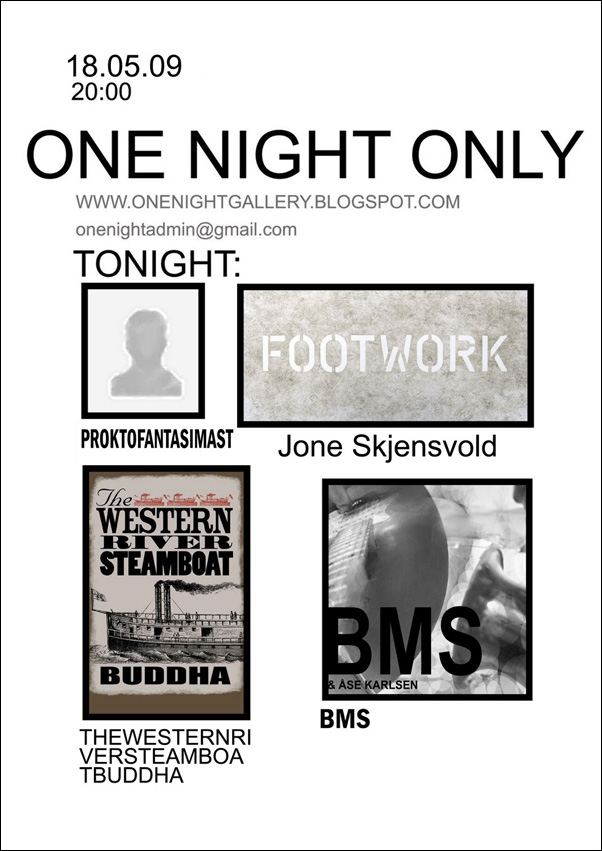 This monday the 18th of may, One Night Only is celebrating the aftermath of the national holiday, and, more importantly, the anniversary of two successfull semesters shows, by presenting a special live show. A big thank you to all those of you who have made One Night Only possible through your participation, both by showing your work and by coming to the shows, we hope to see you there!


BMS

BMS is a musical trio consisting of Helge Bjørkø (tenorsax), Kjetil Maribo (el. guitar) and Stephen Shephard (drums). Formed may 2008, BMS has played at vernissages in Theresesgt, KjARTanistan, Mortensen Mekaniske and Den Gode Kafe. The bands music is improvisational, moving on the fringes of rock, jazz, psychedelia and more recent european avant garde music.

Åse Karlsen has worked as a still/video/tv photographer, both in norway and internationally for the last 20 years, and has been collaborating with BMS since may 2008.

http://myspace.com/bmsnico
http://www.youtube.com/user/aasekarlsen


STEAMBOATBUDDAH

Needing little introduction, Steamboatbuddha has surprised and amazed the Oslo underground music scene through their eclectic blend of various genres of country and blues music and a shamelessly punk attitude. Steamboatbuddha is sure to, as always, give an explosive and slightly out of tune performance.

http://www.myspace.com/steamboatbuddha


Also at One Night Only this monday, JONE SKJENSVOLD is making some new work for the occasion:

Jone Skjensvolod - Footwork – at One Night Only

Jone Skjensvold left the Academy some 13 years ago, and has since then been initiating just as many projects, most of them still ongoing. The longest running project is the Institute of Vincent Lunge, including Vincent Lunge Riders and the cultural exchange project Vincent Lunge Foundation. In recent years he has also been exhibiting in numerous group- and solo shows with the projects 3rdperson, atotal and basics. Tonight he's presenting a couple of word and sign based works from his most recent project Logos. They are both date- and site specific drawings, made in unconscious collaboration with everyone attending the show.

Also check out his web based gallery the Schugacube, and much more, at:

www.vincent-lunge.com

Also, there might be a special surprise, possibly only for those of you who make it on time, so dont be late!