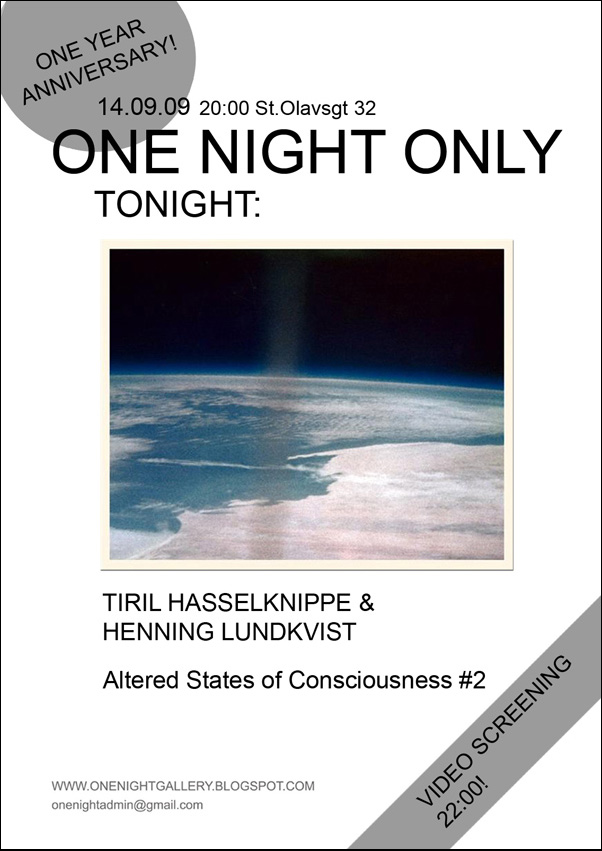 Altered States of Consciousness #2

Altered States of Consciousness #2 is a collaboration of Malmoe based Hasselknippe and Lundkvist, a joint exhibition that will only let the audience interact with the art for one night, as an experiment with time and absorption. The title is synonymous with the old of phenomenon of trance - a concept that the exhibition engages in from different stances within our past, present and future. With this collective starting point Hasselknippe and Lundkvist pieces are closely related, yet the works are separated in both process and identity, which creates a complementary experience in the discussion between the two artists. Through works based on text and imagery, the night will have a narrative consisting of futuristic visions and history extractions, along with trance parties and mass hypnosis - and with a closure of alarming references to sampled material of a forgotten fate.

Tiril Hasselknippe (f.1984, Arendal)
Henning Lundkvist (f.1981. Jönköping)

Opens 20:00 VIDEO SCREENING STARTS AT 22:00


Also the celebration of 364 days since ONE NIGHT ONLY was founded, making this possibly the most important place in the world to be at this particular point in time, or at the very least the most important point in time to be at this particular place in the world.