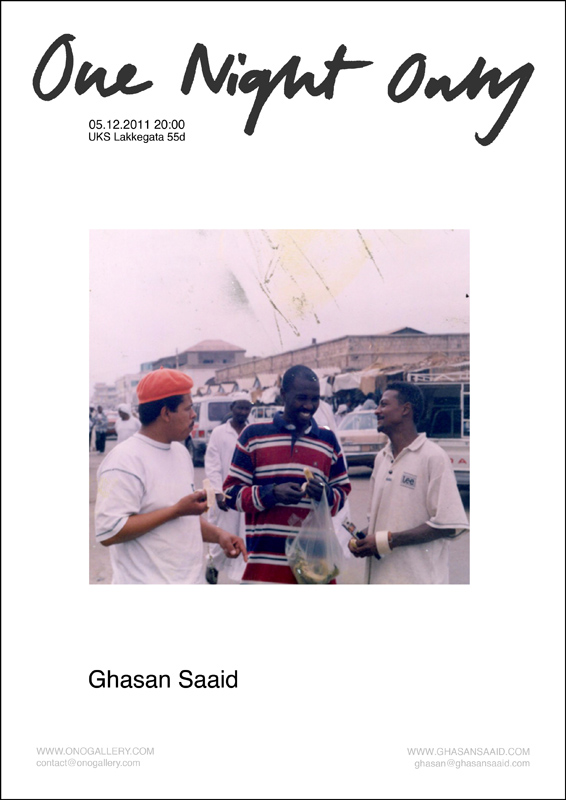 True Story:
This photo was taken in 1997. The guy holding the plastic bag is Hussien.he was as well the one with the loudest laugh among us, his eyes were full of tears every time he laughed. The one to the right is Minnu, The third guy in an orange hat is Ghassan. I took this photo and brought it with me among very few things I brought from Sudan. Hussien lives now in South Africa, Minnu is still in Sudan ,Ghassan lives in Australia. The photo is taken at a city by the Red Sea called Portsudan. I knew very little abou painting then, I still don't know that much, but then I really knew little. Ghassan and Hussien used to help me. Ghassan was the first to leave Sudan. He got married to Minnu's sister and had a MFA two years later. Ghassan's mom, Samira, used to like Hussien the most.

We wanted to have a show outside khartoum, we thought about portsudan but we didn't have money to travel. Then Hussien sold a painting and bought all our tickets. We neither had a place to show at but Minnu fixed it. He had an uncle living there and he knew the manager of a club called the international club. He gave us a space. I fixed a place to stay with an uncle who used to work at the ports corporation.

At the show, I sold a painting that had blue fish and a silly title, I think it was "you are not alone" or to be honest, it was titled that. The lady who bought it was Norwegian. She got married to alocal diver. When I moved to Norway I met a Sudanese guy who studied at NLH in Ås. We became friends and I visited his student room. He had a blue painting hanging on his wall. I asked him where did he got that from. He said, my ex gave it to me, she is Norwegian, I met her in portsudan. Although it's a silly idea, I thought so many times that my painting is the reason that brought me here. What can you do when you grow up with religious experiences your whole life but to think that way. In remembrance of our show in Portsudan, I asked Ghassan to come all the way from Australia to show his art. He said yes. He is showing this Monday. Come and meet my friend. Come and see his art :)
Fadlabi Oslo 2011

Ghassan Studied 2007 - 2008 Master of Studio Arts (photo-media) at Sydney College of the Arts, Sydney University, Australia. 2003 - 2005 (distinction) Advanced Diploma of Fine Arts (Photography), Sydney .Gallery School Northern Sydney Institute of TAFE, Sydney, Australia. 1990 -1995: (First Degree) Bachelor of Fine Arts (Painting), Collage of Fine and Applied Art, Sudan University of Science and Technology. Sudan. Since 2000, until now working as a self-employed Visual artist specializing in cross media art making beside commercial Digital imaging, art photography and teaching.