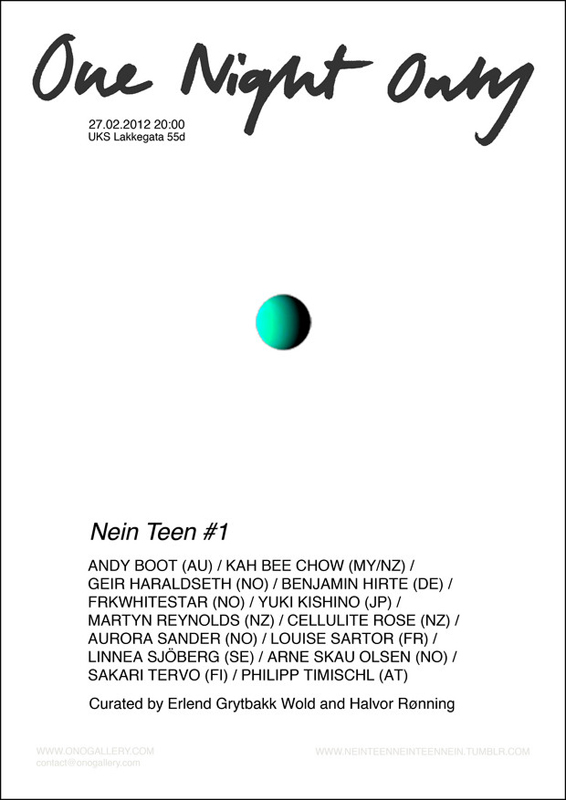 Nein Teen #1
Curated by
(Despite its originally negative overtones, the term no longer carries a negative connotation. All I knew about the word "cyberspace" when I coined it, was that it seemed like an effective buzzword. It seemed evocative and essentially meaningless. It was suggestive of something, but had no real semantic meaning, even for me, as I saw it emerge on the page.)

? > !

"I think the purpose of my presidency is to help define what Utubia is.

(...)

First we absorb it passively, and then we come out and we express our selves; we say things, we do videos, you know, chatting, e-mail, whatever it is. So we get to this phase of being able to put out our entire personality, our visual, our feeling, emotion – changing it creatively, you know, different colors and sound effects. What we're doing is we're creating a whole world.

(...)

So you use these vessels, I call them vessels because it's like Christopher Columbus sailing across the ocean to get to the new world. He used the, what was it, the Santa Maria, the Niña and the Pinta – three ships that were legendary at this point. I don't agree with Christopher Columbus necessarily, there's a lot of controversy about him and I don't like what he did to the indigenous Americans, the native Americans, but they're not even Americans – they're not even Indians because it wasn't India, but anyhow let's just focus on the point – these vessels are used to carry us across cyber seas, and we get to the shores of a new land called Utubia. The vessels are Youtube, Revver, Sharkle, Metacafe – whatever they are – these are our Santa Maria, Niña and Pinta."

– – – – – – – – – – – –

One Night Only Gallery and NEINTEENNEINTEENNEIN are proud to present Nein Teen #1, an exhibition based on blog posts by 15 invited artists. Monday, February 27, 2012, neinteenneinteennein.tumblr.com will host all digital contributions, while a manifestation of the works will be presented in the show Nein Teen #1 at One Night Only Gallery, Oslo.