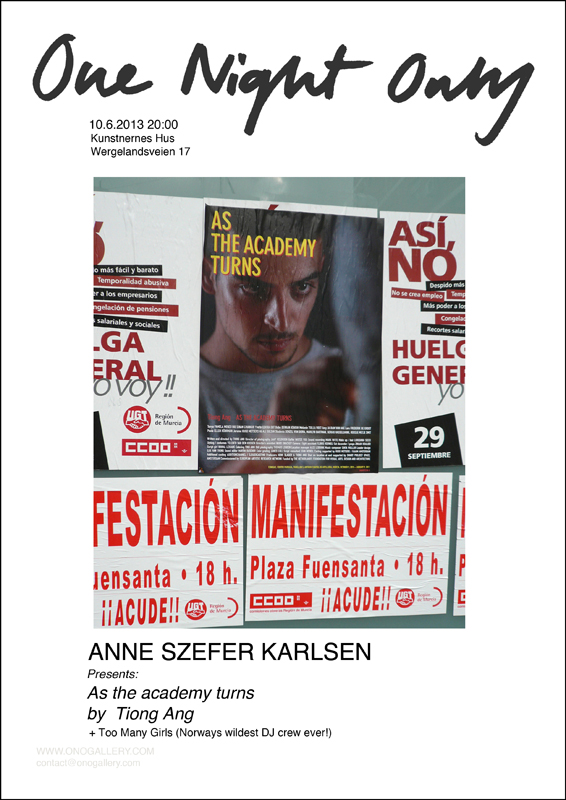 As the academy turns by Tiong Ang
To be an art student is like playing a part in a soap opera! To be a professor in an art academy is also like playing a part in a soap opera!

For One Night Only, curator Anne Szefer Karlsen presents AS THE ACADEMY TURNS by Tiong Ang. This is a soap that describes the changes recently happening in art education. The setting of the soap is the contemporary art academy where the characters – the art academy population of teaching staff and students – act within a situation of transformation where the current master-pupil oriented educational system moves towards a seminar-based form of education with artists as scholars and researchers in an academic community.

The soap AS THE ACADEMY TURNS brings together two diverging poles. On the one hand, it addresses contemporary artistic practice, and autonomous artistic research and production as outcomes of art education. On the other hand, it presents the art academy "remodelled" as a product of the entertainment industry in the context of popular daytime television serving a mainstream, hedonistic, neo-liberal, consumerist ideology.

Elements of critique and of hoax are brought together through the soap opera form so that the genre's exaggerated dramatic style subverts and deconstructs popular views on higher art education.

Tiong Ang (Born 1961 in Surabaya, Indonesia) lives and works in Amsterdam, Netherlands. He has recently shown his works in the exhibitions The Judgement is the Mirror at the Living Art Museum, Iceland (2013), Tbilisi Triennale 2012, Georgian National Museum, Tbilisi, Georgia, "Beyond The Dutch", Centraal Museum, Utrecht (2009), the traveling exhibition "Global Intimacy, " Krannert Art Museum, University of illinois at Urbana-Champaign (2009), Bermuda National Gallery, Hamilton, Bermuda and Block Artspace, Kansas City (2011) and The 7th Shanghai Biennale, Shanghai Art Museum (2008).

AS THE ACADEMY TURNS is developed by EARN (European Artistic Research Network) in collaboration with Manifesta 8, Murcia University and CENDEAC. AS THE ACADEMY TURNS is also made possible by the financial support of Fonds BKVB, Amsterdam and generously supported by SMART Project Space, Amsterdam.

AS THE ACADEMY TURNS by Tiong Ang in the context of One Night Only is part of Hordaland Art Centre's Outside-programme. Anne Szefer Karlsen is director of Hordaland Art Centre.