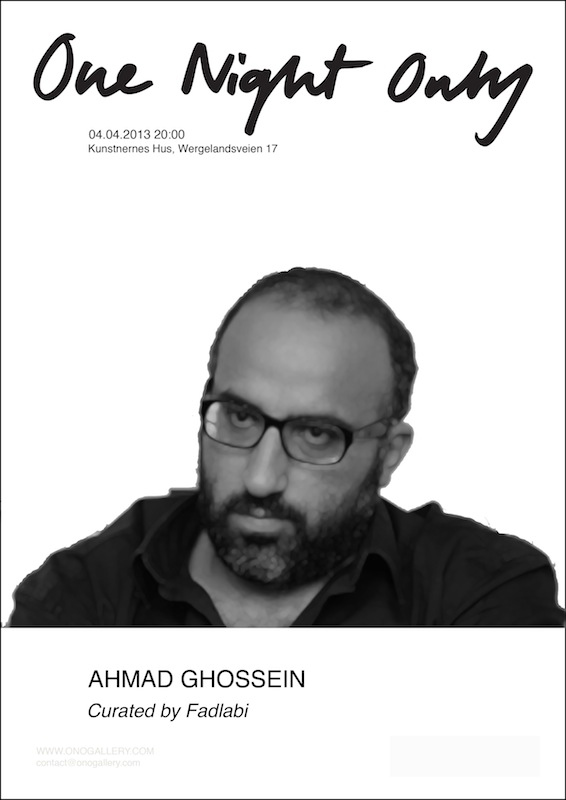 Curated by Fadlabi

I always wanted to produce a work of art together with Ahmad. I am still planing one day to do that, but I just can't yet. He is way better in planing his works to the finest detail and he knows how to blur the line between the private and the public stories that he tells in his videos.

Ahmad could tell you the whole history of the civil war in Lebanon in a film titled: My father is still a communist. I can't.

The works Ahmad is showing, they roar forth with all the latent power of a distant world, yet a very near one. We either know very well how to cope with sadness, or we are so overdosed with it that we try always to feel beyond it. You might think when you watch the three videos Ahmad made, that they take place in different geographies. But if you watch again and again you will find only Ahmad. standing in all the projections with all the beauty of sadness you could imagine, staring you into your soul.

Come see his works this Monday.

Ahmad Ghossein, born in Beirut in 1981, is a filmmaker and video artist with a master degree on visual art from the National Academy of Art, Oslo. After graduating in Theatre Arts from the Lebanese University, he won the Best Director Prize at the Beirut International Film Festival 2004 for his short film OPERATION NB. His latest short film MY FATHER IS STILL A COMMUNIST commissioned by Sharja art foundation 2011, was awarded best short film at Tribeca Doha film festival 2011.

Ahmad has directed several documentaries, short films and videos such as 210m (2007) commissioned by Ashkal Alwan, FACES APPLAUDING ALONE (2008), AN ARAB COMES TO TOWN (2008), a documentary filmed in Denmark produced by DR2, WHAT DOES NOT RESEMBLE ME LOOKS EXACTLY LIKE ME (2009) with Ghassan Salhab and Mohamad Soueid.

His work has been screened in different film festivals, museums and galleries around the world among others Berlin Film Festival, Oberhausen Film Festival, MoMa and New Museum in New York, Kunsthallen in Oslo, Home works, Beirut and Dubai film festival. He is currently preparing for his first feature film Upside Down.